Rachel Elizabeth Designs, LLC. is a Bridal design company location in the beautiful Utah Valley. We carry a full couture line of wedding gowns, lingerie, and religious temple gowns. Rachel Elizabeth also created custom, bespoke, dresses for brides who want a unique gown.

We are very proud to say that each gown is created in our Utah-based studio and the highest quality. All of the gowns are made to fit, ensuring that no alterations will need once it leaves our studio. All of the fabrics used in Rachel Elizabeth gowns are specially chosen based on character and variety. Imported from Europe, all fabrics reflect we have truly searched the globe for the best materials.

Rachel Elizabeth Designs, LLC., strives to make sure every gown created is perfect for each and every bride. At Rachel Elizabeth Designs, we firmly believe that every bride should have her dream personalized gown.

Rachel's love for weddings began when she was asked to be a junior bridesmaid in her Aunt and Uncles wedding. A perfect fairytale in the English countryside the whole event was a dream come to life. Looking back on the event there were so many things to remember and cherish but what stuck with Rachel most, was her new aunts two-tone, gold and ivory, gown!

Before getting her degree from the Fashion Insistue of Design and Merchandising Rachel began her education in fashion at a very young age. Learning to sew at the age of seven and drape at sixteen; Rachel felt perfectly at home in the fast world of fashion. Graduating Magna Cum Laude from FIDM, she then continued her education with an internship as the right hand to a couture designer in london, Tatiana Porembova.
Birth of Rachel Elizabeth Designs
Leaving London was one of the hardest things Rachel did; finding the city so alive and inspiring it's still her favorite place to travel to. Having always known that she wanted to run her own business, Rachel decided she would take a chance and start up her company. Opening in 2015 Rachel Elizabeth Designs, LLC. began in the walkout basement of Rachel's parents home. Gaining experience and a following it was a short year and a half until Rachel was able to open her store front in American Fork, UT.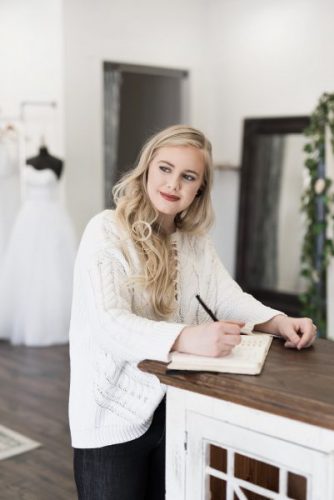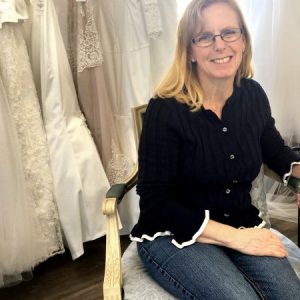 Sharon was born and raised in Europe and moved to the USA in 1986 with her American-born husband. As a young adult made ball gowns, the British versions of prom dresses, and a custom apparel for special events, like the Henley Regatta. Sharon started making wedding dresses for family, friends and herself in the 1980's. She has over 40 years of experience sewing as well as an associated degree in dressmaking. Sharon has been working for Rachel Elizabeth since the business opened and has the added pleasure of being Rachel's Mum.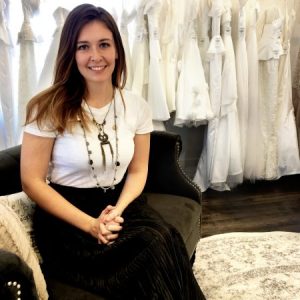 Maren was raised in Northern California and currently attends BYU, studying Family and Consumer Sciences Education. She has had an interest in fashion design since she was a little girl, and hopes to eventually design clothes herself one day. Working with Rachel has been a very enjoyable and educational experience. With Rachel, Maren was able to help design her own wedding dress when she married her husband, Mitchell. She enjoys reading, sewing, cooking, watching scary movies, running, and hiking.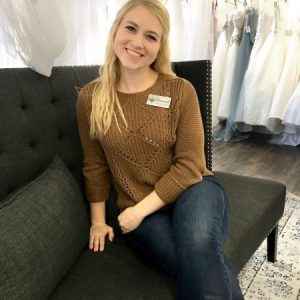 Lead Consultant and Store Manager
Hannah was born and raised in Utah and is the eighth child out of eleven. Hannah has always loved bridal and weddings, and became interesting in working in the industry after watching her first episode of Say Yes to the Dress. Her Favorite part of working at Rachel Elizabeth Bridal is helping brides discover their dream dress and helping make that dream become a reality! When she's not working she enjoys running, hiking, going to concerts and eating pasta!